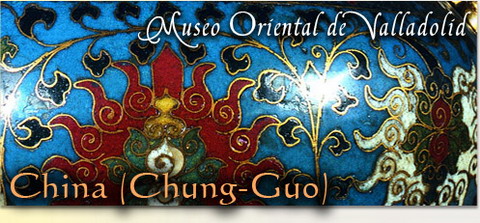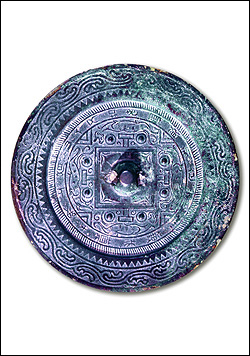 Mirror.
Bronze.
Han Dynasty ( 206 BC-220 AD)
The Chinese produced incomparable works of art, never excelled by another culture: creations in bronze and porcelain, silk and ivory, although in their perspective the art par excellence has been calligraphy, poetry and painting.
A selection from the rich collections of Chinese art of the Oriental Museum can be viewed in eight rooms: bronzes from the 4th to the 19th centuries A.D., illustrating the world of Buddhism, Taoism and ancestor worship; more than a thousand Chinese coins and monetary bills, from the 5th century A.D. to 1912; a marvelous collection of 110 pieces of porcelain, from the 2nd to the 19th centuries A.D.; examples of silversmithing;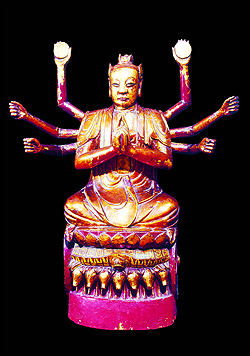 Marichi, Goddess of travellers.
Lacquered wood.
Qianlong Period (1736-1795)

enamels in vivid bright colors; more than a hundred pieces of Chinese ivory from the 18th to the 20th centuries; sculptures of jade, soapstone, wood, and mother of pearl, carried out with exquisite craftsmanship; vivid lively calligraphies – some by imperial authors – , and calligraphic instruments; numerous paintings on rolls of paper and on silk executed by various artists from the Yuan dynasty (1279-1368) and during the 19th century; extraordinary costumes of mandarins, and silk embroideries; fascinating furniture carved in oriental woods; painted and carved shellacs, and tobacco containers...