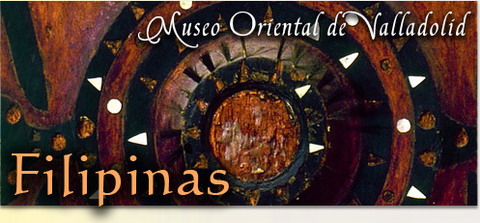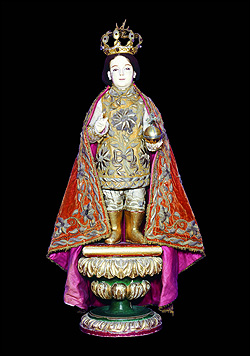 Holy Child of Cebú.
Hispanic-Filipino ivory.
Wood, ivory and embroidered silk.
Made before 1780.
The Philippine art conserves aboriginal imageries and indicates the transition to the charm of cross-culturalization. It is an art of synthesis where one meets the Muslim and the Christian, and that blends the native with the East Indian; the Chinese, Japanese and Spanish with the Philippine.
The five halls of Philippine art at the Oriental Museum form the most complete unit of its kind to be found in Europe. The exhibits range from Neolithic pottery to art-works of the 19th century, illustrating, for example, the history of the Galleon of Manila or of the Galleon of Acapulco. Thus the Hispanic-Filipino art of the 17th to 19th centuries is presented in a rich collection of saintly images, sculptures typical of the country, liturgical vestments, books, engravings and lithographs.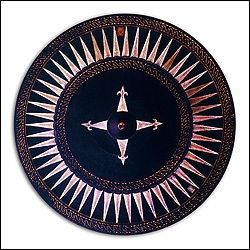 Shield Tamig.
Painted wood.
Davao, Mindanao (1876-1880).
Of great value are the Filipino paintings: portraits and thematic sketches of local customs, manners and historical events. The collection of Hispanic-Filipino ivories stretching from the 17th to the 19th centuries is of special importance. Significant historical mementos are the sketches of the 1898 War, as well as the flags and weapons belonging to the last Spanish soldiers in the Philippines.
The ethnological art of the primal inhabitants of northern Luzon and of the Moors of Jolo and Mindanao is represented in shields and weapons, clothing and glass beads, tobacco-pipes and bronzes, musical instruments and iconic sculptures ...