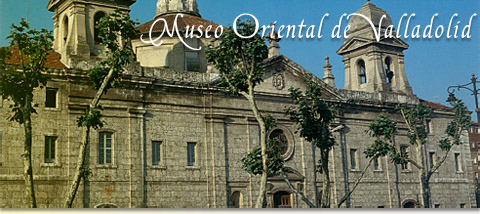 Real Colegio PP. Agustinos
Paseo Filipinos, 7. 47007 VALLADOLID
Tel 983 306 900 - 983 306 800. Fax 983 397 896
The museum is situated in the Royal College of Augustinian Fathers, the building opposite to Campo Grande: Paseo Filipinos – 7, 47007 Valladolid. Tel. 983 306 800 / 983 306 900. Fax 983 397 896.
From the train station:
Five minutes walk, along Calle de la Estación; at Plaza de Colón turn left for Paseo Filipinos.
From the bus station:
Also five minutes walk, along Paseo Arco de Ladrillo; on reaching Paseo Filipinos turn right.
Facilities and services:
Wheelchair accessibility. Reduced rate of admission fee for groups. Availability of guide service.
Publications:
Books, post-cards and other materials are available at the entrance desk at the museum.
Visiting hours
From Monday to Saturday: 10.00 – 14.00 (reserved for pre-arranged groups).
16.00 – 19.00.
Sundays and Holidays: 10.00 – 14.00.
Plan:
[click]